These U.S. dive sites include towering kelp fields, tropical reefs, and sizable shipwrecks, making them worthwhile.
Who hasn't imagined themselves at home in the ocean, surrounded by fish with vibrant colors, chatting dolphins, and gliding sea turtles? At fantastic scuba diving locations in the USA, people can go to this aquatic wonderland with the magic of scuba diving. These are some of the best sites to scuba dive in the USA, whether you choose to dive from a boat or step into the water or explore natural reefs, manmade reefs, or shipwrecks. And many of these locations also offer snorkeling and helmet diving opportunities for those who aren't certified or don't feel comfortable diving, so grab your gear and get in the water.
California: Los Angeles and San Diego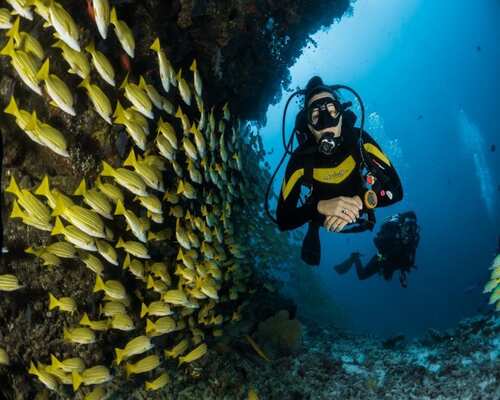 Diverse options abound in the Golden State. Scuba diving in California is frequently characterized by enormous, ominous kelp forests. They have a distinctive environment teeming with life and can grow to lengths of up to 45 meters. Near the Avalon Underwater Dive Park at Casino Point on Santa Catalina Island, explore kelp forests. The best diving in California is available at this dive site, which is located off the coast of Los Angeles.
Divers can more readily explore luxuriant kelp forests, miniature walls, and several boat wreck sites thanks to the normally calm water. Keep a look out for the well-known flying fish and the garibaldi which has a beautiful orange color. Wreck Alley off the coast of San Diego is a less busy dive location and is home to four wrecks, including the 112-meter-long HMCS Yukon that is lying on its side. The wrecks operate as an artificial reefs, attracting various species of marine life.
A diver at Avalon Underwater Dive Park located off Santa Catalina Island
Hawaii's Oahu and Maui
Scuba diving in Hawaii is unique due to its crystal-clear seas and centuries of volcanic activity. Off the coast of Maui, explore the Lanai Cathedrals' huge tunnels and lava shoots. The strange, naturally occurring underwater formations are a favorite hangout for turtles, dolphins, white-tip reef sharks, migrating whales, and swarms of vibrant fish. Near Waikiki, off the shore of Oahu, is a famous dive location filled with marine life. A sinking refueling ship called USS YO-257 is a magnet for barracuda, manta rays, and green sea turtles. The San Pedro, a nearby wreck, makes this a fantastic two-for-one scuba diving site.
Key Largo and Deerfield Beach, Florida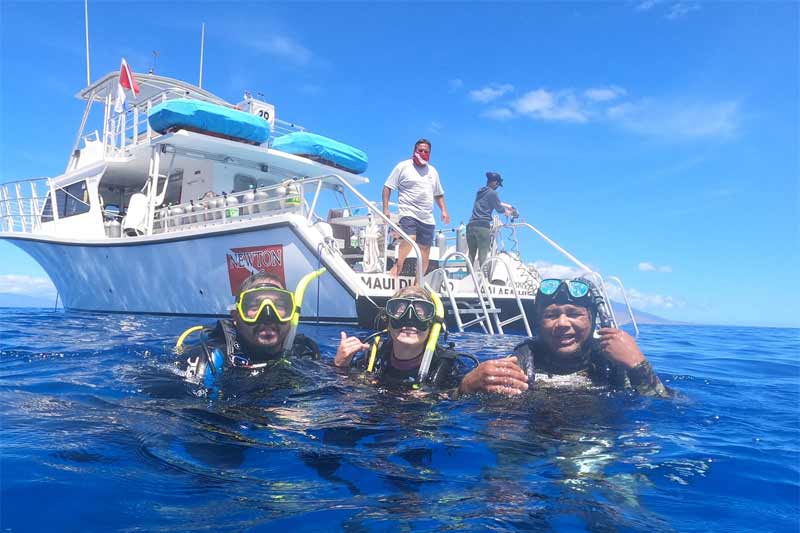 While scuba diving in Florida, you'll encounter a variety of distinct ecosystems, from the warm Gulf of Mexico seas to the deep wrecks of the Atlantic Ocean and the clear waters of the Florida Keys. Reefs, rocks, and wrecks combine in Key Largo to create fantastic diving conditions. The reefs are good for snorkelers and divers because they are roughly 9 meters deep. The well-known Christ of the Abyss, an underwater bronze figure of Christ, is also nearby. On the Atlantic coast, Deerfield Beach, which is north of Miami, contains three parallel lines of reefs. It's a convenient location for snorkeling and shore diving because it begins at less than 2 meters deep around 23 meters offshore. Soft corals, sponges, puffer fish, tangs, and drum fish can all be seen by divers.
a sea turtle at the dive site off Key Largo's John Pennekamp Coral Reef State Park on the Coast Guard Cutter Duane
Alaska: Seward and Anchorage
Alaska may require a little more planning for scuba diving, but the crystal-clear waters are home to some incredible activities. Although the water isn't as chilly as you might expect (it's about the same as many dive locations in the Pacific Ocean), cold-water diving does require specially made gear, beginning with an insulating dry suit. Smitty's Cove in Whittier, Alaska, near Anchorage is a well-known location to see wolf eels, rockfish, anemones, and hermit crabs due to sunken airplanes and World War II wreckage. A rich underwater environment with sunflower stars, plumose anemones, sharks, lion's mane jellyfish, seals, and sea otters can be found at Resurrection Bay, close to Seward.
Near Resurrection Bay, in the Kenai Fjords National Park is Spire Cove.
Coki Beach, U.S. Virgin Islands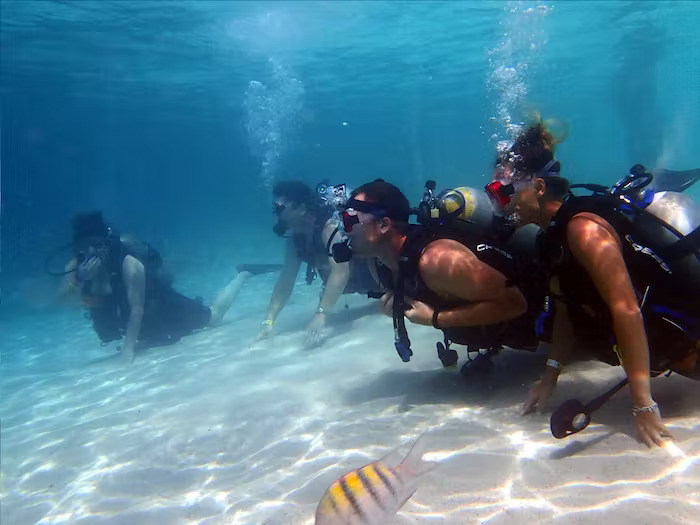 In the U.S. Virgin Islands, warm, turquoise waters call. There's never a poor time to dive in the Caribbean. Because the dive sites nearby are a haven for marine life and the weather is reliable all year long. On St. Thomas, Coki Beach, which is close to Coral World Ocean Park, provides an extensive scuba diving experience. Two fringing reefs 45 meters offshore are teeming with life in conditions similar to a pool. Grunts, yellow-headed jawfish, cleaner shrimp, stingrays, and sea turtles are some of the stars of the underwater show.
preparing to investigate the reefs off Coki Beach
Guam: Piti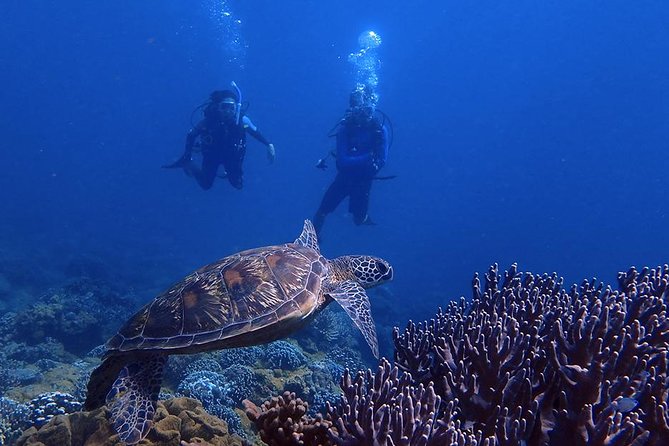 Guam, in the West Pacific, is known for its immaculate beaches and uncrowded dive sites. The American Tanker, a wrecked barge turned artificial reef in Apra Harbor near Tumon. This is a wonderful wreck dive location for beginners. The tanker, a relic of World War II, was probably deliberately sunk to help with the area's breakwater. Take a picture with the tanker's underwater American flag. While admiring the schools of colorful schools of fish rushing around the barge.
Two divers investigating the Guam seas