The United States offers a staggering array of activities and sights to see. The ability to party, however, is one requirement that many people have while making travel plans. Fortunately, there are plenty of towns in the USA with active cultural scenes and fascinating nightlife. While you probably already know about popular party destinations like Los Angeles, New York City, and Las Vegas, here are a few less well-known but equally exciting places to party.

Providence, Rhode Island
As a college town, you are aware that Providence never lacks fun. There are several bars and places to hear live music in this city in Rhode Island, as well as places to see performing art. What's best? You can count on finding excellent deals everywhere because of the city's sizable college population.
A 1,200-acre (4.9 km2) park system may be found in Providence. The Waterplace Park and the Riverwalk, Roger Williams Park, the Roger Williams National Memorial, and Prospect Terrace Park stand out among these. A 15-foot-tall granite monument of Roger Williams looking over the city may be found in Prospect Terrace Park along with panoramic views of the downtown area. Providence, one of the first cities in America, has a large number of historic structures, and the East Side neighborhood in particular has the largest contiguous area of structures listed on the National Register of Historic Places in the country, with many homes from before the American Revolution.

Nashville, Tennessee
Nashville is well-known as the center of country music worldwide, and with good reason! Nashville will be a blast if drinking a couple of beers while listening to live soulful country or southern rock music is your idea of a good time. Nashville is home to a wide variety of dance clubs, live music venues, and pubs with great beer and welcoming residents. In the end, this is the South!
Popular attractions include The Parthenon, a full-scale model of the Parthenon in Athens.
Fort Nashborough and Fort Negley, the former of which is a restoration of the old village and the latter of which is a partially rebuilt Civil War combat fort. One of the nation's oldest operational state capitols is the Tennessee State Capitol. The Hermitage, the former residence of President Andrew Jackson, is one of the largest and busiest presidential mansions available to the public.
The city's primary performing arts venue is the Tennessee Performing Arts Center. Nashville Repertory Theatre, Nashville Opera, Music City Drum and Bugle Corps, and Nashville Ballet all call it home. The Schermerhorn Symphony Center, the Nashville Symphony's new home, opened its doors in September 2006.

San Juan, Puerto Rico
Puerto Rico has a long history of being a popular party destination, especially for those on a budget. There are dance clubs all across San Juan, and due to the city's Latin background, salsa music is in plentiful supply. Additionally, San Juan's fantastic clubs, casinos, and dining establishments ensure that no night is ever dull there.
There are many beaches in San Juan, all of which are accessible to the general public.  San Juan's beaches all have an Atlantic Ocean view. Los Cables Beach, La Perla Beach, Capitolio Beach, Puerta de Tierra Beach along the Paseo de Puerta de Tierra, and El Escambrón Beach are all located on the Islet of San Juan, which is also home to Capitolio Beach, La Perla Beach next to the Old San Juan neighborhood of La Perla, Los Cables Beach, and La Perla Beach.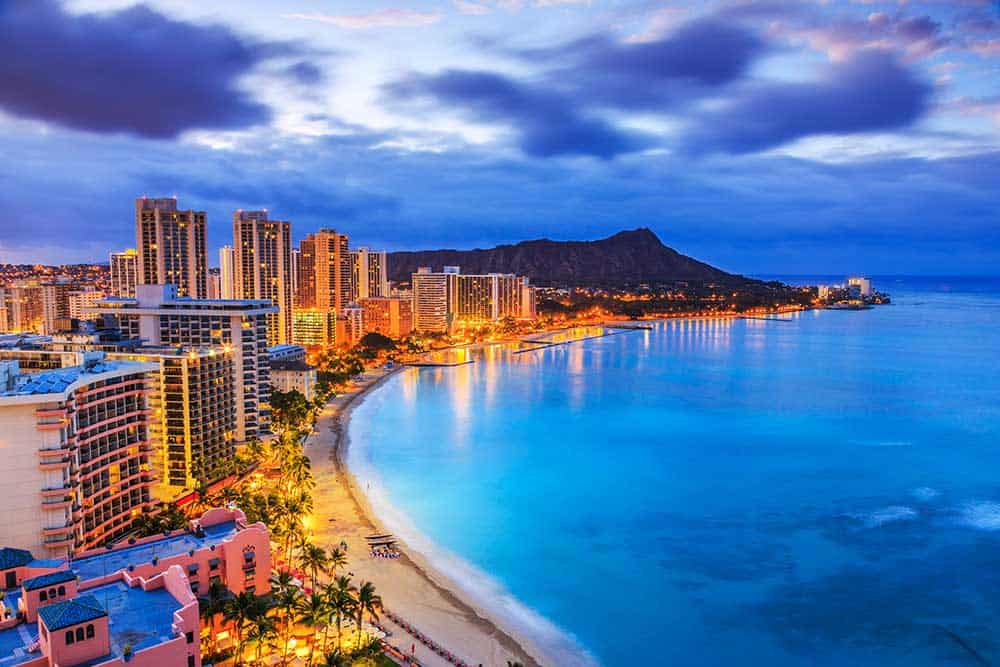 Honolulu, Hawaii
Hawaii established a reputation as a relaxing beach destination. After spending the day on the beach sipping from coconuts, if you're feeling too laid back, go to downtown Honolulu for a fun night. The state capital is a hive of party activity where residents have just as much fun as tourists. Honolulu is the place to live it up, whether you want to dance the night away in a beach club, see live music, or just enjoy a few cocktails in a classy lounge or bar.
The Bishop Museum is the biggest in Honolulu. It houses the greatest natural history specimen collection in the entire state as well as the largest collection of artifacts from Hawaiian and Pacific cultures in the entire world.  Hawaii's primary zoological facility is the Honolulu Zoo, while the Waikiki Aquarium functions as a live marine biology lab.
The famous Honolulu neighborhood of Waikiki was formerly a hangout for Hawaiian nobility and is situated on the city's south shore. When its first hotel, the Moana Surfrider, was constructed on its shores in 1901, Waikiki, also known in Hawaiian as "spouting waters," was presented to the world.