Utah's vibrant deep canyons and starry skies will win you over, or at the very least take your breath away. Be in awe of how majestically wind and water have molded the terrain. The Mighty 5 refers to the five national parks in Southern Utah, which are renowned for their imposing vistas and unique beauty. Fly into McCarran International Airport (LAS) in Las Vegas, Nevada, to start your journey, and then rent a car to drive to Southern Utah.
Cedar Breaks National Monument has magnificent gorges.
Only 37 kilometers distant, ski resorts, the Dixie National Forest, and Cedar Breaks National Monument are all within a two-and-a-half-hour drive of Cedar City, a charming college town. Look out to the horizon as limestone towers, arches, and numerous red rock spires begin to appear. Take one of the fantastic walks to explore. Bristlecone pines, wildflower meadows, and breathtaking geological rock formations are the rewards of the 6-kilometer round climb from Spectra Point to Ramparts Overlook Trail.
The vista descends into an almost one-kilometer valley that resembles a geological amphitheater from an elevation of more than 3,000 meters. There is a campground with 25 sites if you'd rather camp, but make sure to reserve your spot in advance. A popular location for cross-country skiing and snowmobiling in the winter with an average snowfall of over 914 centimeters is the nearby Brian Head Resort.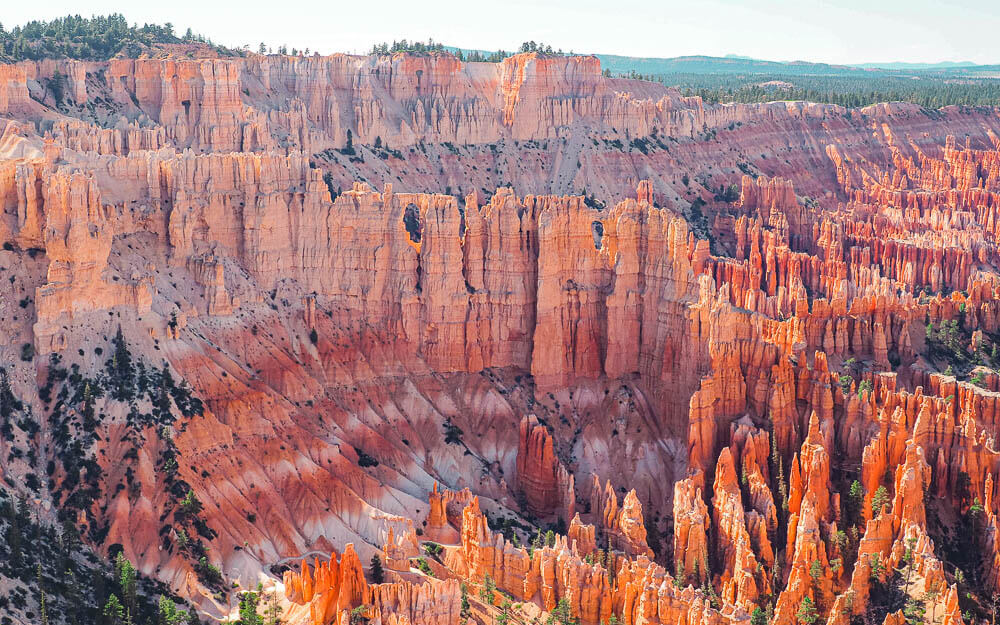 Parks with natural amphitheaters can be found in Bryce Canyon
After that, take Scenic Byway 143 as it passes Panguitch and passes by Bryce Canyon National Park. Bryce Canyon National Park, which was created in 1928, immediately gained recognition for its stunning, untamed, and rough landscape. In this well-known canyon, hoodoos, or rock spires, were formed over time by natural erosion. Indian folklore from long ago describes how hoodoos came to be. The greedy Legend People were turned into beautiful rock spires that were dispersed throughout the canyons when the Coyote deity petrified them into stone.
With the Bryce Amphitheater serving as the crowning achievement, streams sculpted the sandstone into horseshoe-shaped formations that mimic outdoor theatres. The Queen Garden's Trail, which starts at Sunrise Point and spans over 3 kilometers, offers a simple entrance into the canyon.
Try the 14-kilometer Rigg Springs Loop hike, which passes red rock formations and lush woodlands below the plateau, if you're an experienced and fit hiker. Then, take a drive from the visitor center to Rainbow Point to see the Grand Staircase-Escalante National Monument and the entire park. Admire the stunning variety of colors that the sandstone canyon walls feature, including pink, gray, white, pale yellow, and cocoa brown.
The park provides unusual outings throughout the winter, like free ranger-led snowshoe trails. On park trails above the rim in the Dixie National Forest, cross-country skiing is also permitted. Stay at the Bryce Canyon Lodge during the summer to see hoodoos from the comfort of a cozy, old-fashioned mountain retreat.
Capitol Reef National Park's Arid Beauty
Drive into Boulder along All-American Road Scenic Byway 12, a three-star Michelin route that is regarded as one of the nicest in the USA due to its pine trees, valleys, and gorges. The undiscovered village is famous for Boulder Mountain Lodge, a favorite for its Western decor and award-winning Hell's Backbone Grill & Farm restaurant. Capitol Reef National Park has Slickrock topography, gigantic domes, jagged cliffs, and meandering canyons. It is remote, wild, and breathtakingly beautiful. Capitol Reef got its name thanks to cliffs that serve as barrier reefs and dome-shaped structures that resemble capitols.
If you are rushed for time, at least take Capitol Reef's Scenic Drive, which conveniently passes right through the center of the park. You may explore 64 kilometers of serene trails inside the park that offer breathtaking vistas. Along the Fremont River, this park is also home to the historic Fruita town. The region was formerly inhabited by the Fremont Indians until Mormon pioneers landed there. The original settlers' orchards still exist today, yielding mouthwatering cherries, apricots, peaches, and pears. You can stroll the orchards and gather fresh fruit for a fair price. Enjoy the calm environment. In this area of Capitol Reef, you might be lucky enough to see mule deer and bighorn sheep.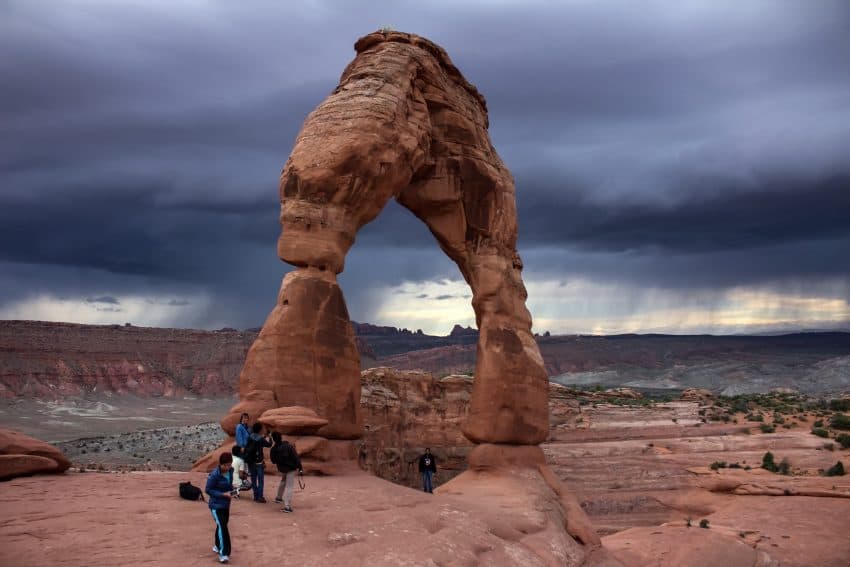 Moab's Sandstone Canyons and Arches
When you first arrive in Moab, you notice how big the open spaces are. You cannot really be prepared for the breathtaking scenery. You're in luck because the two national parks' entrances are close together—just 30 minutes apart. Start by visiting Arches National Park, which is roughly 10 minutes north of the city. The world's highest number of rock arches—2,000—can be found in this park. Bring hiking boots because some of the most beautiful arches require a hike, even though you can see some of them from the comfort of your car. The park is divided into various sections because of its amazing arches.
Wander around the 11-kilometer Devils Garden Loop or the 5-kilometer Delicate Arch path. You'll be in awe of the geologic wonders rising above you from the desert floor, spectacular natural stone arches that have been expertly fashioned through time by simple erosion. It's time to continue your exploration of Canyonlands National Park's noteworthy natural wonders and geological structures. The Mesa Arch, which towers above a canyon that drops 244 meters below, is the most well-known. It's a short distance from the trailhead and a simple trail, so don't skip it.
Zion National Park's famous slot canyons
Your final park, Kanab, whose sagebrush flats, sandstone cliffs, and rolling open spaces give this town its American West vibe, is five hours away from Arches National Park via Interstate 70. Zion National Park is Utah's most popular national park for a reason—it's a photographer's paradise. The Virgin River system juts through the Colorado Plateau, which is characterized by multicolored canyons in varied pastel and burned tones. There is so much natural beauty to witness, including grottos, natural springs, hoodoos, domes, and towers.
Several trailheads are serviced by the park's shuttle.
The walk to the Temple of Sinawava near the edge of The Narrows, a vast slot canyon where you might have to wade in the river in some places, is one of the attractions. The Pa'rus Trail, Canyon Overlook Trail, and Angels Landing are a few other well-liked hikes. The variety of trails will satisfy backcountry trekkers. Rock climbing, hiking, and exploring canyons are undoubtedly popular activities in Zion National Park, but you should also include wildlife and plant spotting on your list. There are more ecosystems and flowers in Utah than anywhere else, with over 800.
Watch out for a variety of creatures, including the Mexican spotted owl and the peregrine falcon. The Cable Mountain Lodge is the closest lodging option to the park's entrance, and it also has amazing views and a spa. It's the perfect place to unwind after a long day of trekking before making the approximately 3-hour drive back to Las Vegas for your return flight.