This southeast United States road trip, which follows a route from Charleston, South Carolina, to Huntsville, Alabama, offers stunning architecture, breathtaking scenery, delectable cuisine, and rich cultural landmarks.
Few places in the USA's lively and diverse regions provide the kind of mesmerizing beauty, charming history, and kind friendliness that the Southeastern states do. Get ready for an epic journey through South Carolina, Georgia, and Alabama, which includes salt and sand, museums, and space exploration. You'll visit Charleston Harbor, enjoy a leisurely bike ride along Hilton Head Island's beachfront, and tour the actual recording studio where Aretha Franklin and Otis Redding created some of their most classic songs.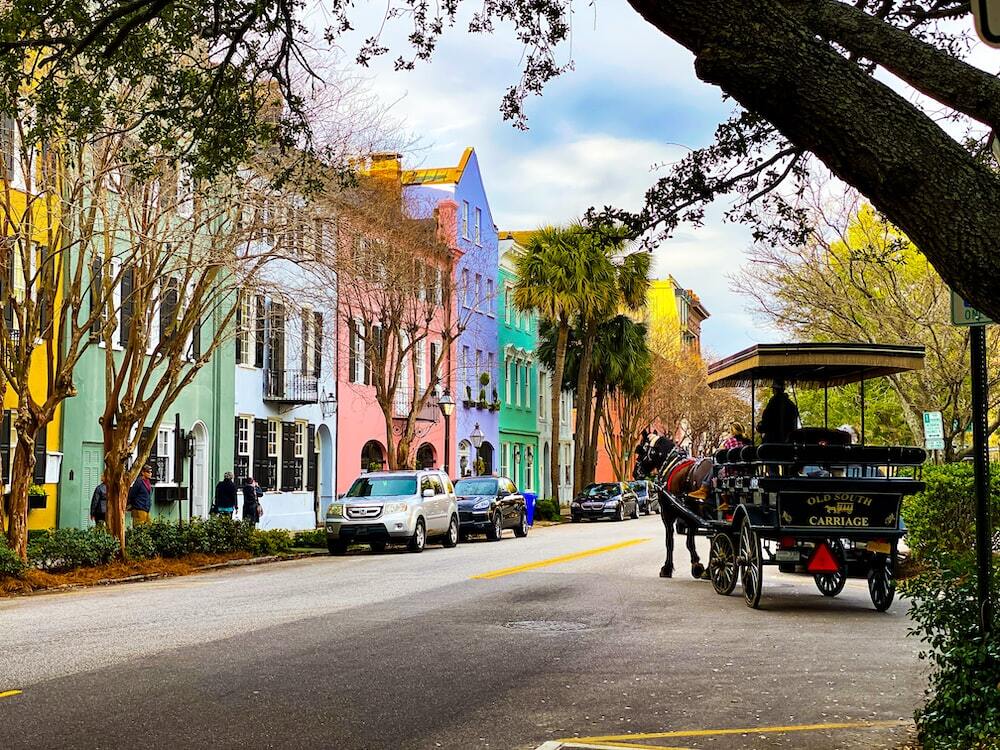 Charleston, South Carolina offers harbor views, opulent residences, and mouthwatering dining.
Start the day with a stroll along The Battery after rising from your stylishly decorated bed at The Mills House Wyndham Hotel. Historic, stately mansions can be seen on one side of the former defensive seawall while Charleston Harbor can be seen on the other. Follow the salty breeze to White Point Garden with a cup of coffee in hand. One of Charleston's most popular spots, this waterfront park is known for its imposing oak trees, intriguing historical markers, gazebo that's perfect for Instagram, and breathtaking harbor views.
You may reach the well-known Rainbow Row, 13 buildings painted in an eye-catching rainbow of pastel colors, by strolling less than a kilometer to the north. After that, head to King Street, where you may browse an almost limitless range of local and regional shops surrounded by palm trees and horse-drawn carriages. After your retail therapy session, relax your feet at La Pâtisserie inside the opulent Hotel Bennet with a mimosa and Croque monsieur. Want to escape the city? Travel about 40 minutes north to Cypress Gardens, where scenes from the movie "The Notebook" were shot, and take a romantic paddle boat ride through the lush swamps surrounded by cypress trees. For some of Charleston's best shrimp and oysters, return to the historic district.
Experience Hilton Head Island, South Carolina's laid-back beaches and cycling.
Take the elevator below and refuel at the Barbados Room with a Southern omelet and Charleston tea before checking out of The Mills House. The heart of the Lowcountry is Hilton Head Island, South Carolina, which is only two hours to the south. This stunning island is renowned for its beaches, natural splendor, and top-notch golf courses. After arriving, go for a walk or a bike ride down the shoreline from Coligny Beach Park, then have lunch at The Sandbar or Skillets Café & Grill. Among Coligny Plaza's 60 shops and eateries are these neighborhood staples.
Drive 30 minutes northwest to Bluffton if, after enjoying the beach, you'd like to see more of the peaceful Lowcountry way of life. Before you check into the Omni Hilton Head Oceanfront Resort, tour the small town's galleries and imposing oaks. At The Old Oyster Factory, Hudson's Seafood House on the Docks, or Ela's on the Water—all Hilton Head favorites—be sure to allow enough time for supper and a waterfront sunset. Montgomery, Alabama is the next destination, but not before making a couple of imperative stops in Georgia.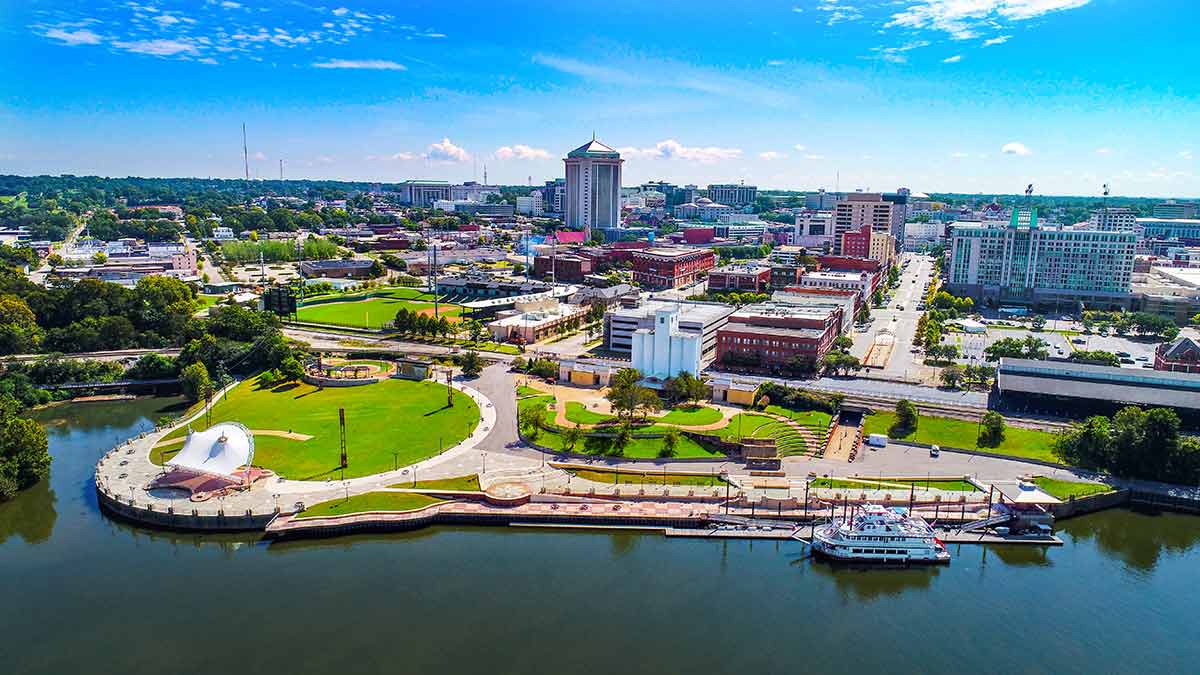 Cities in Georgia to the charming riverfront of the state's capital
It's time to check out and leave after grabbing a breakfast sandwich from Omni's Palmetto Market. Even though Montgomery, Alabama is the day's final stop, you have the option of making a diversion to Savannah, Georgia instead, a stunning coastal city noted for its cobblestone streets and old, oak-lined squares. Because you have a half-day of traveling ahead of you, be sure to pack enough road trip food.
Columbus, Georgia is a great area to get some exercise because it has places like the Chattahoochee Riverwalk and the Columbus Botanical Garden. When you're prepared to proceed, drive for less than two hours in a westerly direction on the interstate before checking into the Hampton Inn & Suites Montgomery-EastChase. Start by exploring the many stores and sights along the Montgomery waterfront to get a feel for Alabama's edgy and historic capital. For dinner, make a reservation in advance at Central, an American eatery with a relaxed elegance that is situated in the city's entertainment zone. More culture and discovery are in store for day four.
You should take your time getting dressed and having breakfast after the lengthy travel yesterday. Rosa Parks will be the subject of your first stop, where you will learn about her and pay tribute to her. The Montgomery Bus Boycott, headed by Dr. Martin Luther King, Jr., was started as a result of Mrs. Parks' fateful and historic refusal to give up her bus seat on that day in 1955, and the Rosa Parks Museum is brimming with exhibits and profound insights about that momentous and historic day. Make time to visit The Scott and Zelda Fitzgerald Museum, the sole museum devoted to writers F. Scott and Zelda Fitzgerald, for more information on local history. During their early 1930s residence in Montgomery, the Fitzgeralds each contributed chapters to novels.
Get in the car and drive 1.5 hours north to Birmingham, Alabama, from "The Fitz." The largest city in the state is home to a number of James Beard Award-winning chefs, wonderful green areas, and intriguing museums. Before checking into the Valley Hotel Homewood Birmingham, Curio Collection by Hilton, grab some lunch and browse The Summit's numerous stores. But the day is still young. Throw your bags in the room and head out to explore the Vulcan Park and Museum and the Birmingham Botanical Gardens. The world's largest cast-iron statue is located in the latter.

North Alabama's rockets, fashion, and legendary music
What do The Rolling Stones, Little Richard, Otis Redding, and Aretha Franklin have in common? Naturally, your next visit is to Muscle Shoals Sound Studio. After leaving your accommodation in Birmingham, head two hours northwest until you reach The Shoals, a region that is home to a number of tiny communities with a rich musical heritage.
To properly appreciate the musical legacy of this area, arrange a trip to Fame Recording Studios in Muscle Shoals and Sheffield's Muscle Shoals Sound Studio. Drive just a little distance into a peaceful neighborhood after lunch to discover a startling architectural wonder: Frank Lloyd Wright's Rosenbaum House. It is the only Frank Lloyd Wright building in Alabama and the only Wright residence in the Southeast United States that permits public guided tours.
Many experts believe it to be one of the most authentic examples of Wright's Usonian design. It won't be long before it's time to get back in your car and drive the remaining 1.5 hours east to Huntsville, Alabama, for your destination. Make time to visit the U.S. Space & Rocket Center before this action-packed road trip comes to an end and you board your flight home from Huntsville International Airport (HSV).