You know you've arrived in Holland when you see tulip gardens, an actual windmill, and the clickety-clack of wooden shoes. Holland is a little town with a distinct Dutch flair. Visit a tulip-covered island, unwind in a lovely beach park, and explore the bustling downtown area with its plethora of boutiques, coffee shops, and bars. Discover three distinctive features of Holland, Michigan, a charming tiny town on the edge of Lake Michigan.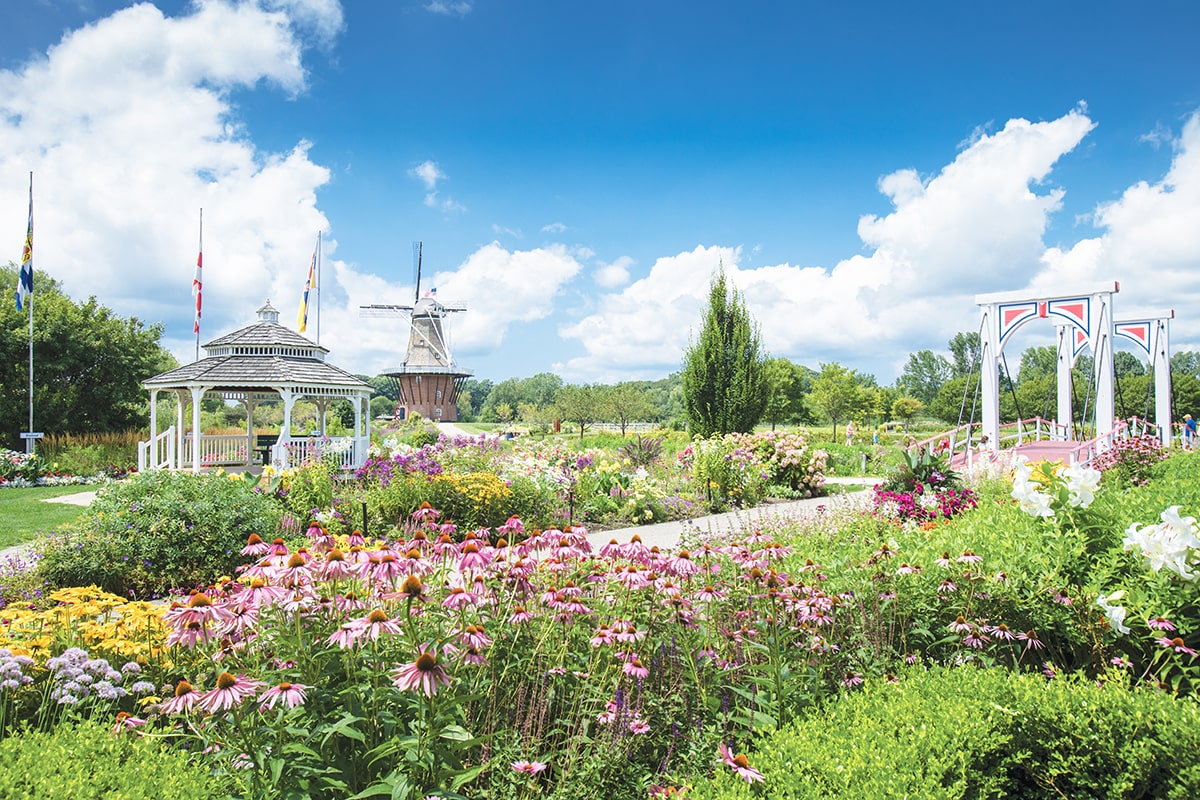 Windmill Island Gardens: Blooming Dutch Heritage
Imagine charming Dutch architecture and stunning sceneries as you picture Windmill Island Gardens. Visitors can stroll past rows of tulips that are lit up in the spring in various colors of brilliant red, orange, purple, and pink. The walkways are always lined with vegetation and floral gardens. This miniature depiction of Dutch life will pique your interest whether you're scaling the real windmill or exploring the vibrant streetscapes. Children will enjoy taking a few rides on the hand-painted Dutch carousel if you are traveling with them.
Additionally, don't be shocked if you leave with a couple of pairs of wooden shoes as mementos; they're difficult to resist. At this must-see destination, take your time to browse all the charming stores and fill your camera roll with memorable photo opportunities. From late April until early October, it is open.
The Relaxed Beach Escape That Is Holland State Park
Ready to escape to the beach? Head to Holland State Park with a towel and your go-to flip-flops. It's the perfect place to decompress lounge on the beach or wade into Lake Michigan's cold, clear waters. Check out the hiking trails for a beautiful walk if you're looking for something a little more strenuous. You can ascend Mount Pisgah, a sizable dune located just east of the park, via a meandering boardwalk for beautiful views of the lake and the Big Red Lighthouse, one of Michigan's most popular lighthouses. Don't worry if you didn't bring a picnic.
You can get something to eat at the beach concession stand or stop by the wildly popular Dune Dogz, a great place to chill out in the neighborhood, for a renownedly excellent hot dog or fresh fruit smoothie. Take a stroll or a bike ride around the Holland State Park Pier to extend the afternoon. A perfect way to round off a day at the beach is to hang out until the light starts to gently fade. At that point, you can see a breathtaking Lake Michigan sunset.
Downtown Holland: A Charming Place
Spend a leisurely day ambling through Downtown Holland, which is home to more than 100 local retail stores, after shaking the sand off your toes and rehydrating. Beyond shopping, take in the stunning Victorian architecture and vintage ambiance before slipping into a bustling restaurant. You might start up a few conversations with amiable locals. Visit the popular Butch's Dry Dock for lunch or the downtown brewpub of New Holland Brewing for a locally made pint. The Wonderful Wizard of Oz creator Frank Baum is then honored with a spectacular memorial in Centennial Park by traveling down the yellow brick road. Baum had deep roots in Holland because it was one of his favorite vacation destinations.
Follow the trail until you come onto the giant-sized replica of Baum's best-known work, which is made entirely of vibrant flowers and vegetation. Then, take the yellow brick road across the street to the Herrick District Library, where you'll see six bronze statues that are life-size renditions of the book's characters. Holland is near to being like home, even if there is no place like it.